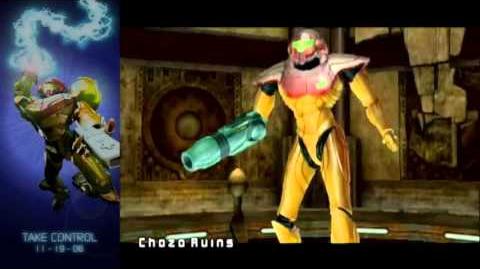 The Double IS route, or the IBBFAF route, is the current fastest known real time-viable Any% route for Metroid Prime. This route has the unusual distinction of being both the fastest route and the "beginners route" due to its modularity; players can skip some or all of the difficult tricks in the route without changing its structure. The vast majority of current players, no matter their skill, use this route.
The fastest single-segment time anyone has achieved with this route is JustinDM's 0:51, which is the current world record. Justin's run did all of the tricks mentioned in the Options section in order to save time.
Naming
The route is named as such because it requires players to perform the infinite speed (IS) glitch twice: once to get the Artifact of Sun, and again to get the Power Bomb Expansion in Magma Pool. It is sometimes jokingly known as the IBBFAF route due to the fact that players perform the Ice Beam Before Flaahgra (IBBF) wallcrawl after Flaahgra (AF).
This route is also sometimes referred to as the "world record route" despite the fact that the current single-segment world record, T3's 0:53, uses the IBBF Early Sun route. This is because with optimal execution, the Double IS route is faster.
Options
This route is convenient in that it allows players to add or remove difficult tricks without changing the rest of the route. There are four main options from which players can choose.
It is commonly suggested that the harder tricks should be added back into the route in order of increasing difficulty and increasing time savings. This leads to the suggestion that players learn and incorporate the tricks in this order: Spiderless Shafts --> Wave/Sun IS --> IBBFAF --> Early Newborn.
Route
Skipped Items
Grapple Beam
Gravity Suit
Spider Ball (optional)
Super Missile
Community content is available under
CC-BY-SA
unless otherwise noted.